Since 2001, our staff of scientists and consultants has successfully remediated dozens of petroleum and hazardous substance release sites in Pittsburgh and the tri-state area. Many of these sites were remediated in accordance with the Pennsylvania Land Recycling Act (Act 2), providing liability protection to our clients. CORE's technical staff includes professional geologists (PG) and licensed remediation specialists (LRS) who are familiar with navigating the complex corrective action processes in Pennsylvania and West Virginia.
Since underground storage tank (UST) regulations began in the 1980s, over 568,000 UST releases have been reported across the United States. CORE has developed significant experience in the management of UST systems, and is well-suited to aid clients through the often-complicated regulatory process associated with these tanks. We offer services ranging from determining responsibility of abandoned USTs to developing and implementing cost-effective remedial solutions.
Effective clean-up and remediation of contaminated sites is critical to ongoing business success and to the overall health of our communities and the environment. CORE provides business solutions by carefully analyzing your particular objectives and designing a remedial approach to efficiently meet those needs. Time constraints, life cycle costs, corporate image, and your specific final plans for use of the contaminated site are all vital to the efficient solution to your remediation needs.
Our remediation experience includes:
Full service project management capabilities for compliance with the Pennsylvania Land Recycling Act, Storage Tank Corrective Action process, the West Virginia Voluntary Remediation Program, Uniform Environmental Covenant Act Programs, and the standard WVDEP enforcement path
Underground storage tank (UST) / Aboveground Storage Tank (AST) closure and removal
Borehole geophysical well logging and interpretation
Remedial Action Plan preparation and implementation
Soil and groundwater characterization and delineation
Site investigation and closure in compliance with the risk-based West Virginia Voluntary Remediation and Uniform Environmental
Covenant Act
WV Licensed Remediation Specialist services
Computer groundwater modeling
Human Health and Ecological Risk Assessment services
Corrective Action Plan preparation and implementation for releases to soil, water, and surface water
In-situ soil and groundwater remediation (biological and chemical)
Emergency spill response consulting and oversight
Vapor intrusion investigation and mitigation
Groundwater extraction and treatment
Soil excavation (dig and haul)
Using our expertise and specialty subcontractors, we offer our clients a diverse array of services to meet their remediation needs. Our clients work directly with our company, rather than several unaffiliated contractors.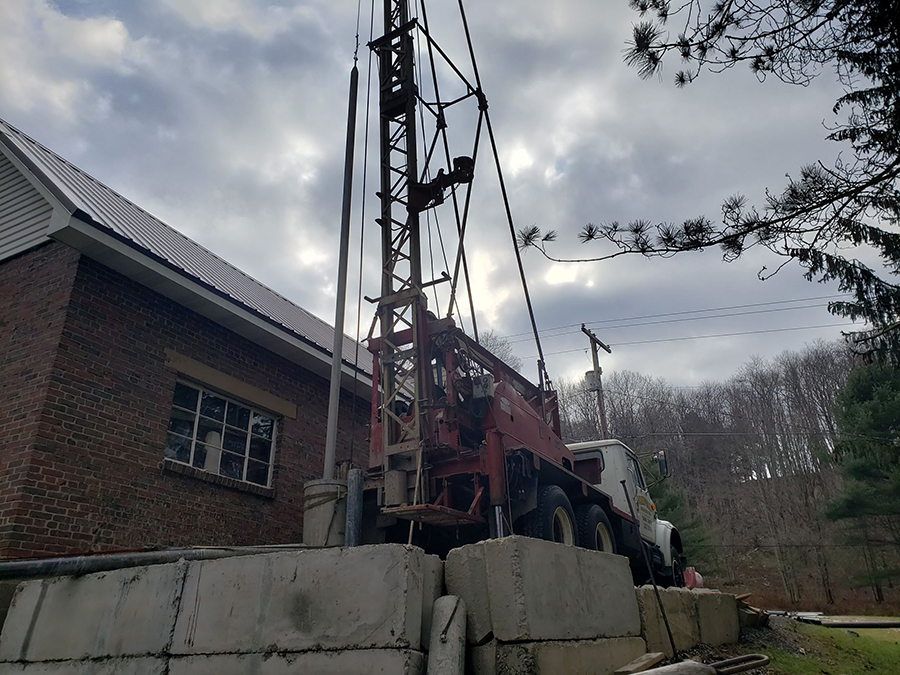 Replacement supply well installation at a site where an existing supply well was impacted by a petroleum release.